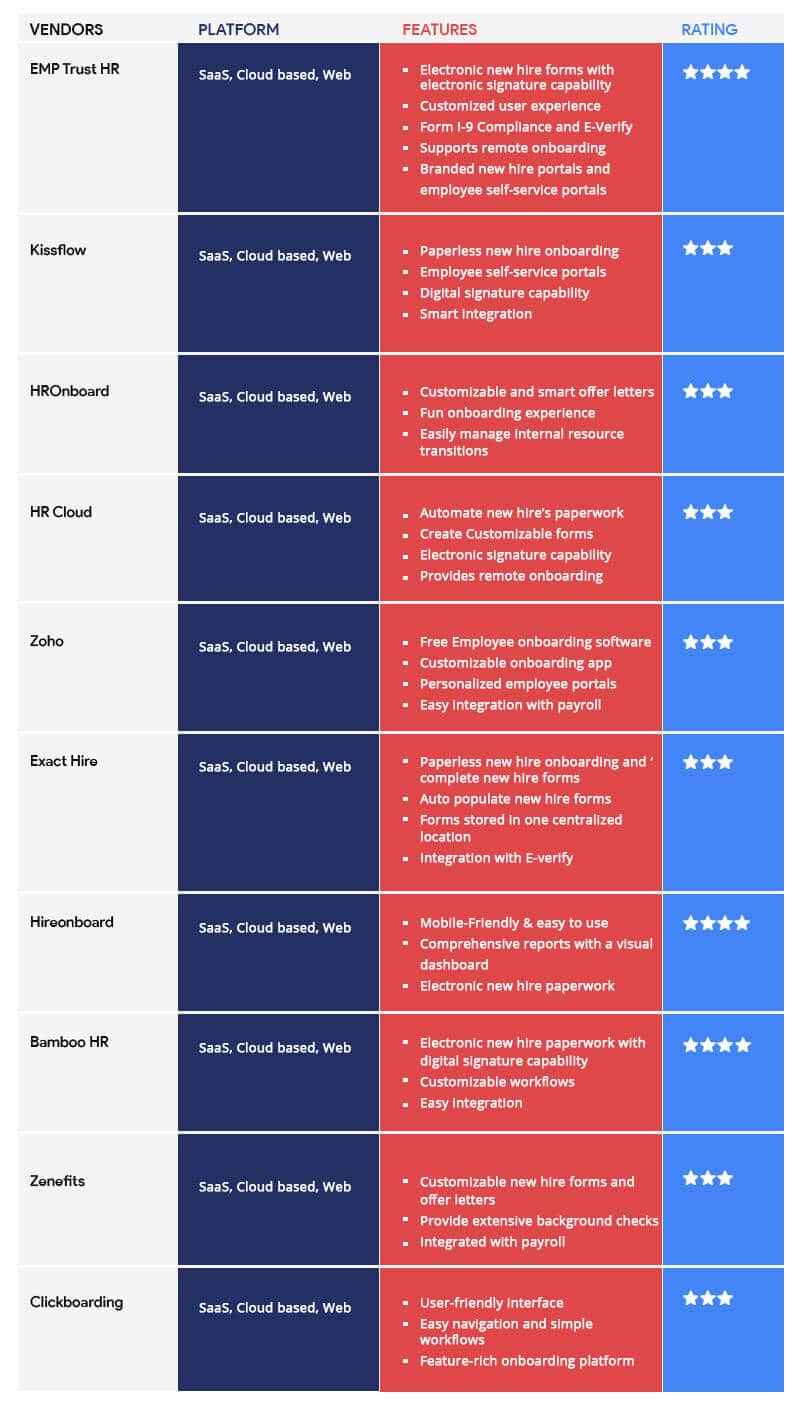 Employee onboarding software is a software solution that enables businesses to welcome and integrate new hires into their ecosystem.
The software helps to manage the employee's transition from an external resource to an integrated member of the company workforce by streamlining and simplifying the onboarding process. Onboarding sets the pace and tone to an employee's stint in the organization. Hence, much care has to be taken, to handhold and ensure that new employees are assimilated into the organization with a well-oiled onboarding process. As companies grow bigger, it is essential to build a formal, structured, and effective onboarding process.
Employee onboarding software systems can help with the following functions:
Provide new hires with the required information on company branded new hire portals with a positive WOW experience. Welcome messages, videos & training resources to help them understand the company culture and integrate into teams.
Generating new hire electronic forms with electronic signature capability. Easily manage all required new hire forms for multiple countries.
Store and manage all employee documents and files from one centralized location.
Giving access to resources, tutorials, and videos for new hire training. Easily schedule training, new hire orientation, assign courses and instructors, or provide links into your LMS. New hires can view training programs, videos, and content relevant to their job.
Integrate more effectively into the company culture. Employee onboarding software helps new hires better understand Company culture by communicating the organization's mission, vision, and values so that new hires get to know the company's work ethics and principles. You schedule welcome meetings for new hires, assign a buddy, make intros to your team so that they get acclimatized to their new job faster.
Manage all internal and external tasks associated with a new employee onboarding process. Automate tasks to key departments, users, and managers with email notifications & alerts.
Ensure legal compliance by completing all required forms for government reporting and audits.
Help new hire and managers view & track tasks completion, monitor open and pending tasks and take the required action.
Track and measure employee job satisfaction with employee surveys, analyze performance, and set new higher goals for extended reporting and company health.
Generate comprehensive reports to help you make informed decisions and run metrics on demand.  View your reports on a visual dashboard and get an overview of the onboarding.
Provide Inbuilt Email & text capabilities to streamline communications with new hires and applicants through automated email and text capabilities.
Optimize hiring when the onboarding software comes with an ATS to streamline your entire hiring process and lay the platform for onboarding new hires.
Features you look for in an employee onboarding software
Structured content and initiation during Onboarding
While most companies would prefer to make an employee's introduction to the work environment relaxed and unwound, at the end of the day, the employee would like to get a sense of what is expected from them. It must go beyond a casual chat and the first day-one day initiation. Research indicates that 52% of hires would look forward to receiving organized, pertinent, and relevant content during the onboarding process.
While you may want to steer away from a stiff and demanding process on day one, you would want to impart a sense of what their individual role and expectation is and what their work environment is likely to be. The employee onboarding software you are searching for must scale to the company's strategic onboarding goals, and not merely tick the requirement for the software.
A good onboarding software makes the initiation process simple and easily navigable for the new hire. The first day brings with it its own load of concerns and apprehensions. With nearly 33% of new hires quitting within 3 months of joining, it helps to have a technology that lets new hires understand, navigate, and comprehend policies and nuances at their pace. Avoid lengthy, wordy documents and provide simple solutions that keep it clean, easy to understand with an uncomplicated interface. Provide tool-tips, in-app training options, and a team or help tools to assist when required.
Many employees are left exasperated by having to navigate through the systems that come along with an HRIS or ATS package. These systems are often developed to cater to HR teams, and often overlook the onboarding process from the perspective of the new hire. Keep in mind to ensure the interface is user-friendly when looking for an employee onboarding process.
Seamless integration with other applications
This is fundamental in the search for a good onboarding system. One of the key questions to ask the developer is to find out which systems would integrate with your existing software platforms, which applications would not. If any features are propriety and wouldn't work with other systems, it's best to look at your next option. You wouldn't want to spend your money only to find out that it doesn't fit into your existing technology framework.
An integrated system can automatically populate identical fields from one application to another. Information retrieved from the ATS can be used to auto-populate new hire forms. This reduces time and cost and improves efficiency. Also, HR managers and hiring managers can seamlessly transition the candidate through the recruitment funnel and after hiring into onboarding, benefits, and payroll, and so on. With a seamlessly integrated onboarding platform, the management gets access data and insights such as candidate feedback in the interview process which can be used to customize an onboarding program for the new hire. It also guarantees no workflow steps are missed along the way and ensures new hires are entering onboarding are completing all the requirements and steps in the recruitment phase.
Paperwork is increasingly on its way out, and this not just in HR processes. Onboarding is no exception. Taxing the new hire with multiple papers to fill on day one, filling the same details numerous times is detrimental not just for onboarding but also for the company processes. Keeping it paperless is an elementary feature in any good employee onboarding software. Data filled in one form should appear on all other forms automatically. Keeping it in the system helps avoid any compliance lapse and mitigates risk for your HR teams.
Equipping onboarding with the right technology makes the process efficient, smooth, and accountable. Eliminating the dulling paperwork process becomes a lot smoother and keeps a virtual paper trail.
Define your objectives and identify the features of the onboarding solution you might need for your business. Some onboarding solutions come with a plethora of functionalities that you won't require but have to pay for. So, decide on the must-have features that will help you meet your hiring and onboarding goals. Most solutions come with different payment models and segments such as basic, expert, and advanced with different functionalities. Choose the solution that fits in with your budget.
Integration with the tools, apps that are frequently used at work is important. All tools that employees generally use should integrate seamlessly into the business ecosystem. There are many tools in the marketplace that make their mark every day. Choose a software that integrates with the most commonly used tools in the workplace such as Office 365, calendars like Outlook, Gmail, and communication channels like Slack.
Why is Employee Onboarding so Critical?
According to a notable survey, hiring and resource managers whose organizations provide a structured long term onboarding program say the rewards include: 1. Employees are more engaged (49 percent) 2. More employee confidence (46 percent) 3. Employees have greater trust in the organization (45 percent 4. Greater efficiencies (44 percent) 5. Higher productivity and performance (42 percent) 6. Higher morale (38 percent) 7. Lower employee turnover (31 percent) 8. Contributes to meeting revenue targets (21 percent)
According to a survey submitted by MIT Sloan Management Review, in the United States more than 25 percent of the working population experience career transitions every year. This makes onboarding a subject of strategic importance.
It is estimated that managers transition into new jobs or new roles on an average every 2 to 4 years with approximately 500,000 new managers moving into new roles or companies each year, in just Fortune 500 companies alone. Yet, the success ratio of senior hires from outside the company is 50%, half of them failing within 18 months into the new position.
According to a study by the Corporate Executive Board, nearly 4% of employees quit a new job after the first day. Nearly 20% of employee turnover happens in the first 30 days.
Studies indicate that it can cost 6 to 9 month's salary every time an employee is replaced. The costs and numbers involved in employee turnover make sense only for managers and companies to look into the process of onboarding with more vigor. About 33% of new hires lookout for a new job within 6 months of joining. New hire cost averages around $65,000 and the learning curve to full productivity can take up to 5 months of full employment. It is estimated that even an $8/hour employee can cost around $3,500 in turnover, both direct and indirect.
Over 50% of Employees who went through a structured onboarding process are likely to stay with the company after 3 years.
Do you need an Employee Onboarding Software?
We provide a list of questions to help you choose whether you need onboarding software or not.
Do you prefer your employees to complete new hire forms and tasks electronically instead of paper and spreadsheets?
Do you want to welcome the new hire with a custom welcome message, share Company's Vision & Mission, Youtube Videos & clips, share links to the website, newsletter, and other resources?
Do you need to maintain close contact with the new hire regularly?
Do you recruit employees who work at remote locations?
Do you feel new hires require help in completing Form I-9, W-4, and other State forms to ensure compliance?
Do you need a digital audit trail of changes made, track pending tasks, safeguard data, and analytics reports to measure productivity?
Do you need a more secure platform to store your data?
Questions to ask when selecting an onboarding process?
How is the new hires' information generated in the onboarding application?
Does the onboarding solutions include training and equipping of new hires?
How does the application allow social networking among employees and help build team camaraderie?
Do you have a support team to address issues and bottlenecks?
How long does the onboarding process take from the new hire's and employee's viewpoint?
How does this integrate into my existing ATS software and payroll?
How will others in the organization use this solution?
Does the software have an employee self-service portal?
What are the key features I need?
What are the pricing options the solution provides? Can I pick and choose which functionalities I need?
Here is a list of onboarding solution that you can consider to meet your onboarding needs
1) EMP Trust
Features
Provides electronic new hire forms with electronic signature capability
Customized user experience
Form I-9 Compliance and E-Verify
Supports remote onboarding
Branded new hire portals and employee self-service portals with welcome messages, manuals, training videos, and help desks
2) Kissflow
Features
Paperless new hire onboarding
Employee self-service portals to submit documents, update their profile and social networking
Digital signature capability
Smart integration
3) HROnboard
Features
Customizable and smart offer letters
Fun onboarding experience
Easily manage internal resource transitions
4) HR Cloud
Features
Automate new hire's paperwork
Create Customizable forms
Electronic signature capability for new hire forms
Provides remote onboarding
5) Zoho
Features
Free Employee onboarding software
Customizable onboarding app
Personalized employee portals
Easy integration with payroll
6) Exact Hire
Features
Paperless new hire onboarding and complete new hire forms
Auto populate new hire forms
Forms stored in one centralized location
Integration with E-verify
7) Kott Software
Features
Mobile-Friendly & easy to use
Comprehensive reports with a visual dashboard
Electronic new hire paperwork
8) Bamboo HR
Features
Electronic new hire paperwork with digital signature capability
Customizable workflows
Easy integration
9) Zenefits
Features:
Customizable new hire forms and offer letters
Provide extensive background checks
Integrated with payroll
10) Clickboarding
Features:
User-friendly interface
Easy navigation and simple workflows
Feature-rich onboarding platform