Next Generation Employee Onboarding
Digitally transforming employee onboarding to meet the needs of the next generation workforce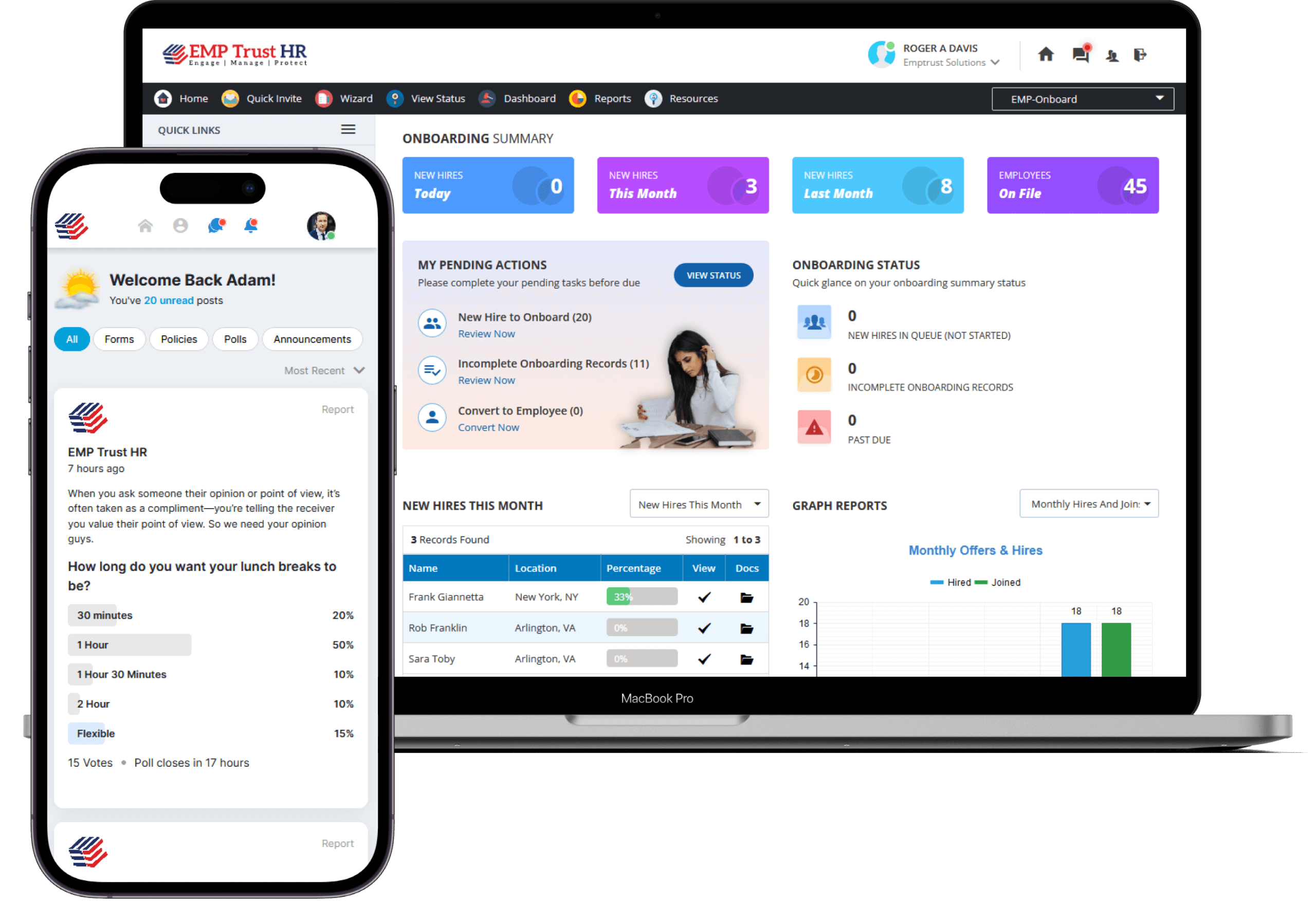 Trusted by Companies Worldwide
Hundreds of large enterprise to small companies trust us to transform their HR processes to the next level
Easy to use employee onboarding software for hourly and salaried workers
New Hire Onboarding Portal
Increased employee engagement and performance. Improved compliance & employee retention.
Electronic New Hire Forms
Fully electronic Onboarding provides smart & custom E-Forms with electronic signatures and reduces paper.
Simplify your internal Onboarding tasks and workflow approvals with status tracking, email notifications and alerts
Electronic Form 1-9 and integrated DHS E-Verify software provides employment eligibility verifications and compliance with a single click.
Hire remotely from anywhere. Simplify remote 1-9 verification. Access to agents including N3 notary network and 1-9 centers
HRIS And Payroll Integrations
Automate your Onboarding process with fully integrated Applicant Tracking, HRIS, Benefits with major ERP & Payroll systems.
Highly Rated Leader in Employee Onboarding Software
EMP Trust is the recognized leader in employee onboarding software. But don't take our word for it, just see what our amazing customers have to say.

"I feel we have had a positive experience with EMP Trust and the customer service"

"EMP Trust has allowed us to grow to 1200 employees, expand across 4 states while staying compliant "
"I have really enjoyed working with the EMP Trust team over the past couple of years on this software"

"Incredibly easy to use and easily customized to our needs."
Senior HR Business Partner

"EMP Trust has proven to be a large value add for our company.The value is incredible."

"Very helpful with implementation, go live, and after implementing."

"Their support is unbelievable.I always get a response quickly."

"EMP Trust implementation helps to reimagine onboarding process."
Speak to an HCM specialist today!
Get Your Hands on an Award-winning Software